If you're a proud owner of a Cocker Spaniel, you know that their gorgeous, flowing coats require regular grooming.Maintaining the health of your furry friend's coat and general well being can be greatly improved with the use of the proper brush. This post we will Discuss about the top 6 best brush for Cocker Spaniel and offer you useful tips to help you keep your dog looking great.
Disclaimer : I strongly believe in transparency. If you buy using the links on our site, we may earn a small commission without any extra cost to you. This helps me to keep producing honest reviews. Read More >>
Table of Contents
Understanding the Unique Coat of Cocker Spaniels
It's critical to comprehend the distinctive features of a Cocker Spaniel's coat before we get into the best brush for Cocker Spaniel.Cocker Spaniels have a double coat consisting of a soft, dense undercoat and a longer, silky topcoat.This combination makes their fur prone to matting and tangling.
The Importance of Regular Brushing
Regular brushing is crucial for Cocker Spaniels for several reasons.
Preventing Matting
Brushing reduces tangles and avoids the formation of mats, which can be irritating for your dog.
Increasing Blood Flow
A healthy coat is encouraged by brushing since it increases blood circulation in the skin.
Getting Rid of Loose Hair
It decreases shedding and keeps your home clean.
Bonding
Brushing your Cocker Spaniel is an excellent opportunity to bond and strengthen your relationship.
Types of Brushes for Cocker Spaniels
For Cocker Spaniels, there are various brush kinds that are suited; each has a particular use.
Slicker Brush
The Cocker Spaniel's coat can be efficiently detangled and dematted using a slicker brush, which is a multipurpose tool. It has delicate wire bristles that cut through fur without causing them any irritation.
Bristle Brush
The perfect tool for finishing touches is a bristle brush. Your dog's coat will have a healthy sheen since it helps distribute natural oils. The topcoat works best with a brush of this kind.
Pin Brush
A pin brush features long, flexible pins that are gentle on your dog's skin. It's perfect for untangling knots and ensuring your Cocker Spaniel's fur stays smooth.
Undercoat Rake
For the dense undercoat, an undercoat rake is a must-have. It's designed to remove loose hair and prevent matting in the soft underlayer.
Dematting Comb
If your Cocker Spaniel's coat is prone to mats, a dematting comb is an essential tool. It's designed to gently remove stubborn tangles and mats without causing discomfort.
Top 6 Best Brush For cocker Spaniel
Now that you know the types of brushes available, let's look at the top six options that are highly recommended best brush for Cocker Spaniel.
1.Extra Large Firm Slicker Brush for Dogs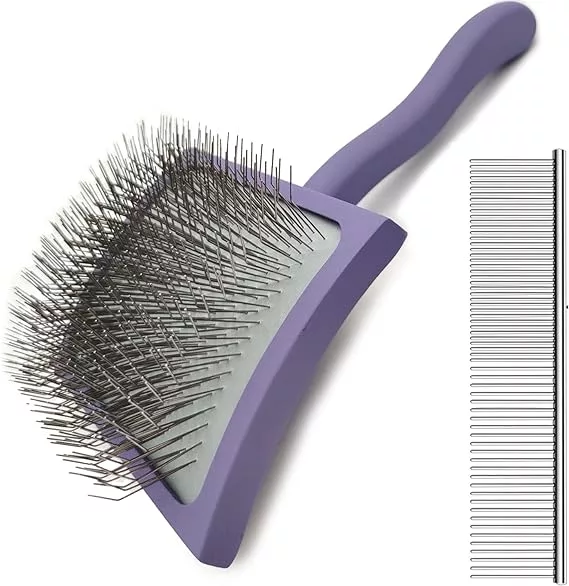 This brush is essential if you have a doodle or any dog with long hair.
This pet brush contains long and angled pins that reach deep into the undercoat, pulling out plenty of disconnected shed hair and straightening out the mess.
After using this brush, the top coat is lustrous, smooth, and extremely soft.
As long as you're consistent with brushing you should be able to control your dog's coat. It's a good brush.
Brushing a dog takes time, and they must be desensitized.The angled bristles navigate his fur easily.
The comb is a handy addition post-brushing. Even the groomer noticed a difference – no matting during visits. Shaving is a last resort.
Pros
Works as intended. Great Price
Nice quality brush and comb set
2.Chris Christensen Big K Dog Slicker Brush
Crafted for detangling and knot removal
Penetrates to the root, eliminating stubborn undercoat tangles
Thins and separates hairs throughout the coat, resulting in increased volume.
Unique pin bend design generates lift and movement for maximum coat pickup
The supple cushion offers a gentle and forgiving grooming experience
Extended ergonomic handle for reduced arm and hand fatigue
Pros
brush removes the hair and the coat feels very soft after brushing.
Best investment for everyday use.
Cons
It works very well but The price is quite high
3.Chris Christensen Big G Dog Slicker Brush
The Chris Christensen Big G Long Pin Slickers are your go-to tools for efficient grooming, cutting your grooming time in half.
These slicker brushes boast long, dense pins that deeply penetrate through even the thickest and longest coats.
Tailored for fluffing and shaping curly, cottony coats
Perfect for fluffing and contouring heads, toplines, and legs
Utilize the large Big G slicker for the body and the medium Big G for legs, columns, and poms
Effectively tackles stubborn tangles and mats
Featuring a flexible cushion that provides a gentle and forgiving grooming experience
Enjoy reduced arm and hand fatigue with the extra-long ergonomic handle
Pros
Easy to remove hair and clean
This brush is very light and does a thorough job.
This brush is effective and faster
Cons
Decent quality and design
4.Chris Christensen 20 mm Pin Dog Brush
Your dog will love this brush!. The Chris Christensen Wooden Pin Brush is designed to avoid uncomfortable pulling and is the most gentle way to untangle hair.
This unique, all wood brush, trusted by dog show exhibitors, professional groomers, and breeders worldwide, will make everyday grooming a joyful experience for both you and your best friend.
A high-grade brush for individuals who want perfection and quality.
Ideal for dogs and cats who dislike brushing. Brushing with wood pins feels more like a massage.
Pros
Great for sensitive pets
Extraordinary quality
Very soft on dog hair, no pulling needed
5.Chris Christensen Mark V Dog Brush
A high-grade brush for individuals who want perfection and quality.
Perfect for delicate or fragile coats.The body is made of lightweight, sturdy Beech wood.
The smoothest available are high quality stainless steel pins with ground and polished points.
Ground and polished stainless steel pins glide easily through the coat, handle shape and curves do all the work for you, and the unique shape means your wrist is no longer at a constant angle.
White on White was a driving force in the advancement of dog coat care.
The momentum that has resulted has enabled Chris Christensen Systems to deliver you the greatest grooming products available in the dog show and pet care sectors.
Pros
Easy to use for cats and Dogs
Excellent for a dog's face!
Makes grooming easier
Cons
The wires in it seem to Sometime hurt 
6.Large Grooming Brushes for Dogs and Cats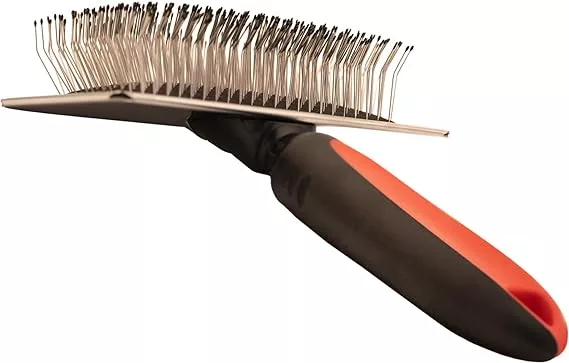 Brush through tangles and matted hair. This product is ideal for pets with lengthy double coats because of the long bristle.
Bristles are robust enough to go through tick hair without bending and remove the most stubborn mats and loos hair without harming your pet.
Using our product will ensure that your pet has a silky and cotton soft coat.This is going to be a lot of fun for the dogs.
You may spend more time with your pet if you use our detangler brush.
It is so simple to clean and use that the grooming procedure takes half the time it used to.
Pros
Easy to use, lifts lot of hair easily 
Works well and Comfortable
Perfect for Poms
Cons
Unstable handle and Rough Sometime
Grooming Tips for Your Cocker Spaniel
To make the most of your brushing sessions, here are some essential grooming tips:
Brush Regularly
Consistency is important.Aim to brush your Cocker Spaniel at least three times a week to keep their coat in top condition.
Be Gentle
Use a gentle hand while brushing to avoid hurting your furry friend. Start from the tips and work your way up to the body.
Check for Ticks and Fleas
Regular grooming treatments also allow you to check for ticks and fleas, keeping your pup healthy.
Final Verdict
Maintaining your Cocker Spaniel's gorgeous coat and general well being begins with selecting the right brush for them. You can keep your animal buddy happy, healthy, and stylish by understanding their individual coat type and investing in the correct grooming supplies.